The Agritourism Al Giuggiolo is located in Via Isacchina n. 30, Libolla di Ostellato, in the province of Ferrara.
GPS Coordinates: Lat N: 44.745632 – Lng E: 11.910354
Take the highway A13 (Bologna- Padova).
Take the junction to Ferrara- P.to Garibaldi sub-highway, then take exit in direction of Portomaggiore.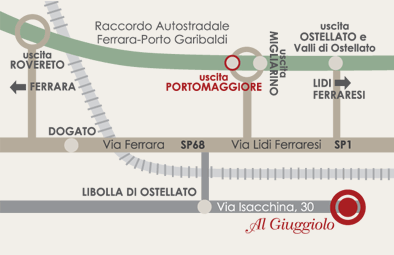 BY TRAIN
Bologna-Ferrara-Codigoro line, Stop at Ostellato.
website: trenitalia.it

IN COACH
Ferrara – Lidi Ferraresi; linea Ravenna – Comacchio, linea Ostellato – Portomaggiore.
ACFT Ferrara
(Coach station V. Rampari di S.Paolo, tel.0532.599492).
BY PLANE